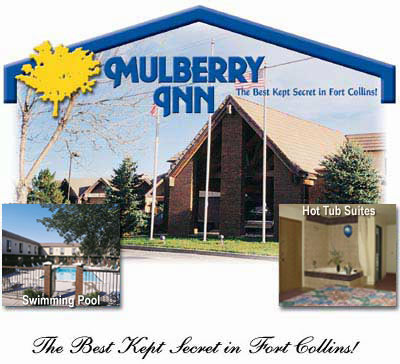 The Fort Collins Mulberry Inn is recognized for its hot tub suites and family suites. RELAX... and enjoy the variety of amenities they have to offer in their facility.
Mulberry Inn offers rooms with in-room hot tubs, jetted bathtubs, bridal, family or mini suites and regular rooms with queen or king size beds with ground floor outside entrances in smoking or non-smoking. Whatever your favorite form of relaxation, you will delight in the casual atmosphere and hospitality that is the Fort Collins Mulberry Inn tradition. Please make yourself at home and let the staff provide you with all the comforts of good living.

Following anemities are offered:
Easy interstate access
Outside entrance
Ground floor rooms
Hot tub suites
Heated outdoor pool
Family suites
Fax available
Smoking and Non-smoking rooms
Queen & King size beds
Weekday and group rates
Meeting rooms available
Continental breakfast
Free cable TV/HBO
Free local calls
Pets are welcome
Restaurant on Premise
Next to McDonald's Restaurant
Mulberry Inn is located on the South East Corner which is easily accessible from I-25 and Highway 14, exit 269a. Onsite isprovided you an a printed map to help you get around town. Included is a listing of the area attractions.
Mulberry Inn
4333 E. Mulberry St.
Fort Collins, CO 80524